Chitra Dewy Finish Hydrating Body Oil Lavender Bloom
100ml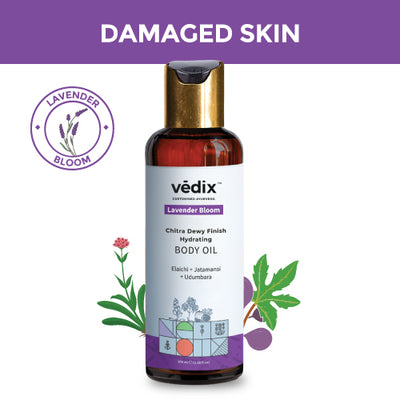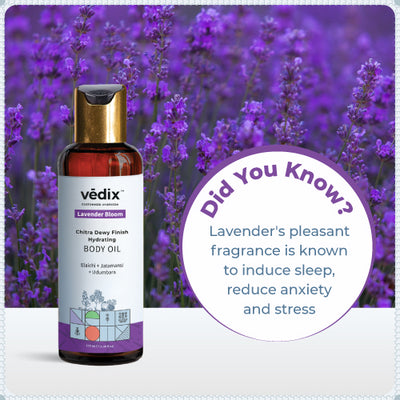 Chitra Dewy Finish Hydrating Body Oil Lavender Bloom
100ml
5 95% Satisfied Customers
Rs. 499
This Product is Recommended For:
Product Description
This body oil contains Ayurvedic ingredients which:
Help improve overall skin texture
Help removes dark patches & pigmentation
Help nourish the skin
Key Ingredients
Ashwatha - Help reduce pigmentation
Elaichi - Helps To Keep Skin Healthy
Jatamansi- Helps Prevent Signs Of Ageing
Recommended Use
Gently massage the body with oil to promote circulation till the oil gets absorbed in the skin.
Do not leave it on for more than 1 hour.
Follow it up with Vedix body scrub and body wash for best results.
Here's What Our Customers Say About Us
Wonderful for people with dry skin. I try to use it every single day, especially as a natural massage oil in the night for an overnight hydration
Highly recommended everyone to buy this.
Reduced fine lines acne other skin-related problems.
Extremely relaxing, works as the ideal body massage oil. The smell is so amazing!
Chitra Dewy Finish Hydrating Body Oil Lavender Bloom 100ml
Lavender is one of my favorite scents! This body oil is very rich so I only use it before a shower for extra hydration
A very moisturizing and nourishing oil.
Loved this colourless, light textured oil.
Provided me with the glow and nourishment to my skin.
It is light weight and doesn't make the skin sticky
The oil is very light weight and smells good