Druta Vitamin C Brightening Body Lotion
300ml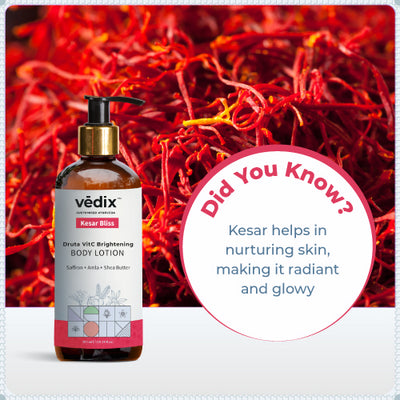 Druta Vitamin C Brightening Body Lotion
300ml
5 95% Satisfied Customers
Rs. 499
This Product is Recommended For:
Product Description
This body lotion is made with Ayurvedic ingredients which:
Help add a glow & radiance to your skin
Help fade blemishes and dark spots
Help hydrate your skin
Key Ingredients
Saffron: Helps Lighten Dark Spots
Amla: Helps Brighten The Skin
Shea Butter - Helps Repair Dry Skin
Recommended Use
After shower, gently massage the body with the lotion till it gets absorbed in the skin.
For best results, use it along with Vedix body scrub and body wash.
Here's What Our Customers Say About Us
My skin stays hydrated for a very long time. Wonderful body lotion.
One of the most amazing ingredients in this is Kesar, I always loved Kesar and now to have it in my skin care gives me gorgeous skin
This lotion is effective against my dry skin.
Druta Vitamin C Brightening Body Lotion 300ml
With lavender and kesar, this combination is the perfect skin care hack! It smells very lovely and relaxes me as I apply it
After applying this body lotion, my skin does not feel greasy or sticky.
It provides hydration all day long! Super-effective for dry skin types
After I started using this lotion, my dry skin felt very hydrated and smooth
Nice body lotion. made my skin feel so supple and full.
Previously, I experienced skin redness issues with other products; fortunately, this one did not cause any. Wonderful lotion!
There's no grease. Rapid absorption. Nice