Ojas Collagenorate Firming Body Oil Kesar Bliss
100ml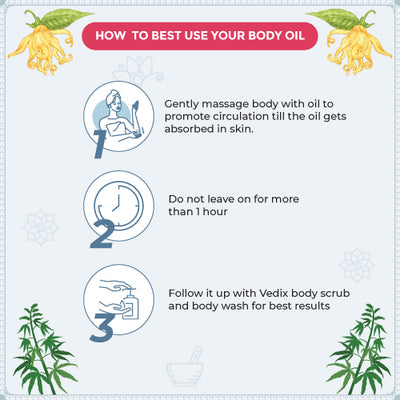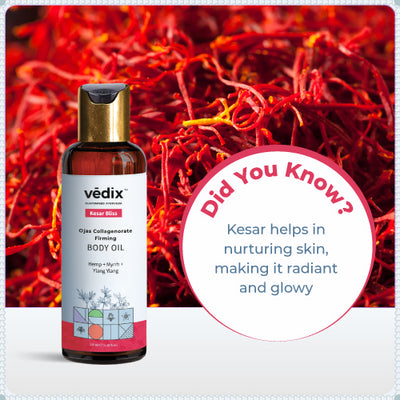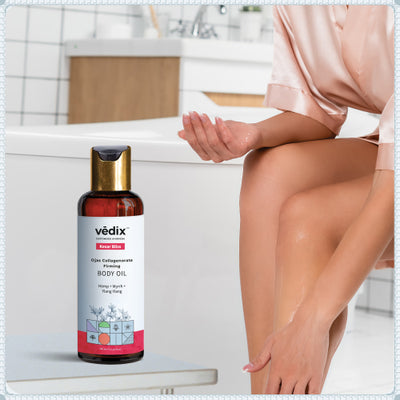 Ojas Collagenorate Firming Body Oil Kesar Bliss
100ml
5 95% Satisfied Customers
Rs. 499
This Product is Recommended For:
Product Description
This body oil contains Ayurvedic ingredients which:
Help improve overall skin texture
Help removes dark patches & pigmentation
Help nourish the skin
Key Ingredients
Hemp- Helps To Keep Skin Healthy
Myrrh - Packed With Anti-Bacterial Properties
Ylang Ylang - Helps Reduce Skin Infections
Recommended Use
Gently massage the body with oil to promote circulation till the oil gets absorbed in the skin.
Do not leave it on for more than 1 hour.
Follow it up with Vedix body scrub and body wash for best results.
Here's What Our Customers Say About Us
Shimmery and shiny! My skin looks so great after using this oil. Since I have extremely dry skin, I use this instead of a body lotion and it works like a charm
Smells fantastic! My skin feels a little more oily than usual but it's a great pre-bath ritual for me!
Ojas Collagenorate Firming Body Oil Kesar Bliss 100ml
The odor of this oil is very soothing. I love natural body oils and this one adds an extra layer of shine to my skin. Love the soft feeling afterwards
Keeps my skin hydrated for a longer time.
Will definitely buy it again.
Doesn't feel greasy, sticky or made my skin smooth.
No greasiness. Very fast absorption. Impressed with the results.
Awesome for people like me having dry skin.
Nice body oil. Made my skin so soft and plump.
Nice oil, it gets absorbed into my skin quite fast.