Samrudh HydroSoothe Bodywash
250ml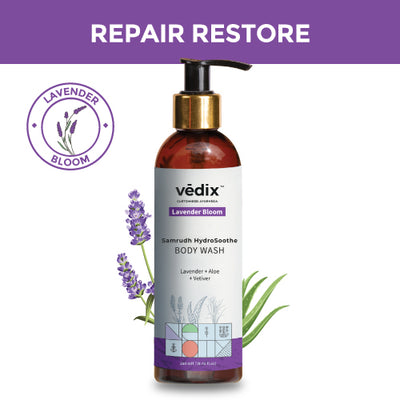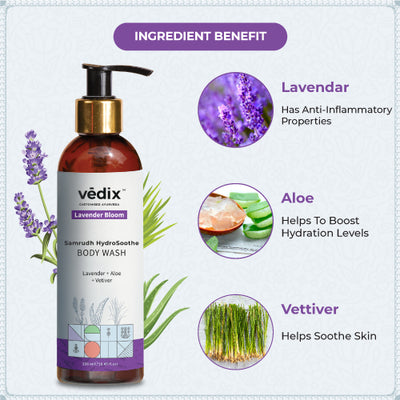 Samrudh HydroSoothe Bodywash
250ml
5 95% Satisfied Customers
Rs. 499
This Product is Recommended For:
Product Description
This body wash contains Ayurvedic ingredients which:
Help in soothing & calming skin
Help in improving overall skin texture
Help to boost hydration levels
Key Ingredients
Lavender - Has Anti-Inflammatory Properties
Aloe -Helps To Boost Hydration Levels
Vettiver - Helps Soothe Skin
Recommended Use
Wet your body and loofah with water.
Pour a coin-sized amount of body wash into your loofah and work into a rich lather.
Rub gently across the body and wash off.
For better results, follow it up with Vedix Body Lotion.
Here's What Our Customers Say About Us
Smells very soothing and refreshing. Ultimate hydration and sometimes I don't have to use a cream after! Great product
I think this worked very well for my dryness and chapped skin, but following up with a lotion is better
Samrudh HydroSoothe Bodywash 250ml
I have such dry skin and to find this body wash is such a blessing!! I have tried so many but this one works best for my skin
Great body wash for dry skin people.
This one does the cleaning well and also makes my dry skin smooth.
Amazing thing - very gentle on my dry skin and unlike other body wash.
Skin doesn't feel dry and rough after wash.
After-washing feels really good, smooth and clean.
Nice body wash. Skin feels smooth and fresh after wash.
Such an amazing product. Makes my skin so smooth after each wash.