Usra Hydro-Intense Body Lotion
300ml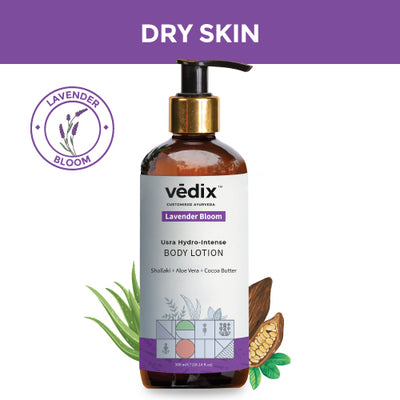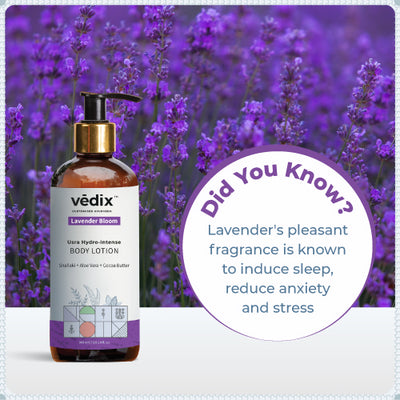 Usra Hydro-Intense Body Lotion
300ml
5 95% Satisfied Customers
Rs. 499
This Product is Recommended For:
Product Description
This body lotion is made with Ayurvedic ingredients which:
Helps soften and nourish the skin
Help fade blemishes and dark spots
Help hydrate your skin
Key Ingredients
Shallaki: Helps Hydrate & Soothe Dry Skin
Aloe - Helps To Boost Hydration Levels
Cocoa Butter - Helps To Keep Skin Healthy
Recommended Use
After shower, gently massage the body with the lotion till it gets absorbed in the skin.
For best results, use it along with Vedix body scrub and body wash.
Here's What Our Customers Say About Us
Absolutely love the fragrance. Two of my favorite skin care ingredients! This lotion provides max nourishment for people with dry skin.
I like the smell a lot. Lavender scent is very relaxing. My skin is dry and chapped but this product totally takes care of it for me
Usra Hydro-Intense Body Lotion 300ml
The smell is very strong, I like the lotion as it keeps my skin soft throughout the day
It always makes my skin smooth, soft, and bouncy.
Excellent product I'll buy it again.has a lovely feel to it.
Keeps my skin moist for a longer period of time.
Skin stays soft and moisturized. Impressed by the outcomes.
Will buy it again without a doubt.
This has won my heart, and the scent is simply divine
Have been applying this lotion for some time. But it never made my skin feel greasy, sticky, or rough.