Druti SheaCare Deep Nourish Hair Mask For Dry Hair
200gms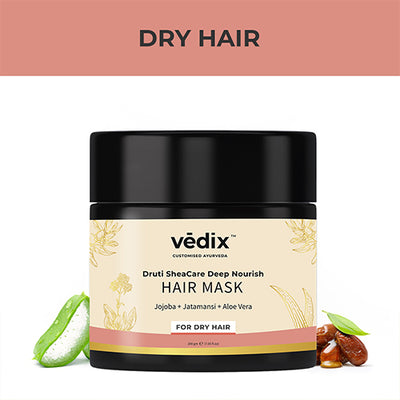 Druti SheaCare Deep Nourish Hair Mask For Dry Hair
200gms
5 95% Satisfied Customers
Rs. 499 Rs. 599
This Product is Recommended For:
Product Description
This hair mask contains ayurvedic ingredients which:
Help hydrate scalp and control hair fall
Help stimulate hair follicles for growth
Help condition scalp & hair
Key Ingredients
Jojoba- Helps Moisturize & Condition Hair
Jatamansi- Helps Control Hair Fall
Aloe Vera- Helps Make Hair Softer
Recommended Use
Part your hair in two halves.
Take the hair mask on your palm & apply adequate quantity to the lengths of your hair.
Leave the mask on for 10-15 min before washing it off with Vedix Onion Shampoo.
For best results, use twice a week.
Here's What Our Customers Say About Us
Surprised by how well it worked on my hair.
Had high expectations from this but didn't turn out great
Great mask to keep hair nourished and hydrated.
Good mask for anyone who has dry and damaged hair. Gives good results
Little difficult to use but gives good results
Didn't improve the dryness of hair. Hair is still dry and brittle
An average product for this price. Will not buy again
Not a very good product. Little results
Never thought a hair mask could be so effective. I use it regularly