Vardara Deep Conditioning Shampoo with Dandruff Care For Dry Hair For Men
100ml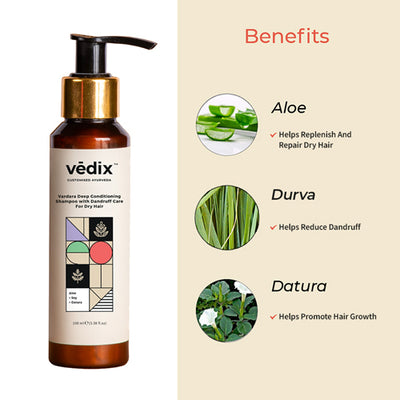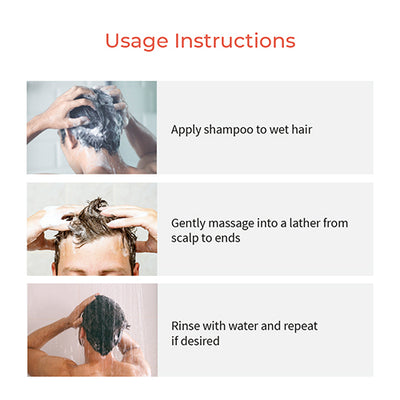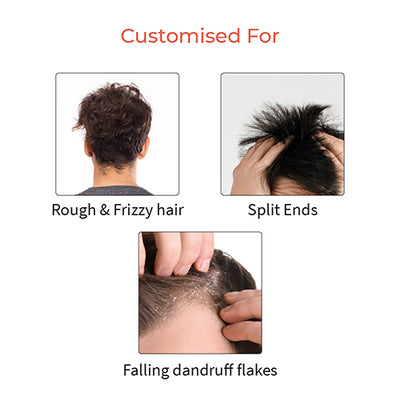 Vardara Deep Conditioning Shampoo with Dandruff Care For Dry Hair For Men
100ml
5 95% Satisfied Customers
Rs. 449 Rs. 499
This Product is Recommended For:
Product Description
Vedix Vardara Deep Conditioning Shampoo with Dandruff Care For Men is customized with herbs that work together to moisturize dry scalp, reduce hair fall and dandruff. The shampoo regulates hair fall while treating other scalp infections. It strengthens hair from the roots and prevents breakage.
Key Ingredients
Aloe - Helps Strengthen & Repair Hair Strands
Datura - Helps Promote Hair Growth
Durva - Helps Reduce Dandruff
Recommended Use
Apply shampoo to wet hair
Gently massage from scalp to ends
Rinse with water and repeat if desired
Here's What Our Customers Say About Us
I like the shampoo as it refreshes the scalp. just need to use more quantity to remove hair gels
Awesome
I'm using for 3 days.. 3 products really awesome shampoo oil serum. Thank you vedix for customized hair care solution for me. I'm having dry hair dandruff and hair fall. Vedix is super combo for all my problems and it's chemical free. Day by day I. can see the difference.my hair it's going good.and strong. Thank you so much veidx. Love you team for one day delivery.
It really Does wonders to your hair
I could fee the difference at the first wash itself.
Using for last 1week, good shampoo for dandruff
This shampoo made a visible difference to my hair
Wish the quantity was a little more, but nice product
My dandruff & hair fall is reduced after using this product.
This shampoo is your one-stop solution for dry hair!