Vardara Deep Conditioning Shampoo with Dandruff Care For Dry Hair For Women
100ml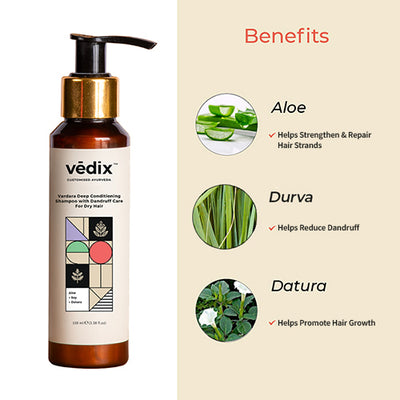 Vardara Deep Conditioning Shampoo with Dandruff Care For Dry Hair For Women
100ml
5 95% Satisfied Customers
Rs. 449 Rs. 499
This Product is Recommended For:
Product Description
This shampoo contains ayurvedic ingredients which:
Help add moisture to dry scalp
Help treat scalp infections
Help make hair roots stronger & reduce hair damage
Key Ingredients
Aloe - Helps Replenish And Repair Dry Hair
Durva - Helps Reduce Dandruff
Datura - Helps Promote Hair Growth
Recommended Use
Apply shampoo to wet hair
Gently massage from scalp to ends
Rinse with water and repeat if desired
Here's What Our Customers Say About Us
I have stopped worrying about hair fall because this shampoo works superbly well for my dry scalp type
A very good shampoo. Leaves hair clean & no dandruff
The shampoo is very smooth and removes flakes..
My hair fall and dandruff issues are now under control.
This is the best Ayurvedic shampoo I've ever used.
Finally after facing lots of hair fall problem i got such a great product for my hair
It does my hair silky ,long.,...
Ideal shampoo for dry scalp. Had so many scalp worries and now they're gone, thanks to Vedix!