Viruj Hair Fall Oil for Normal-Oily Scalp
100ml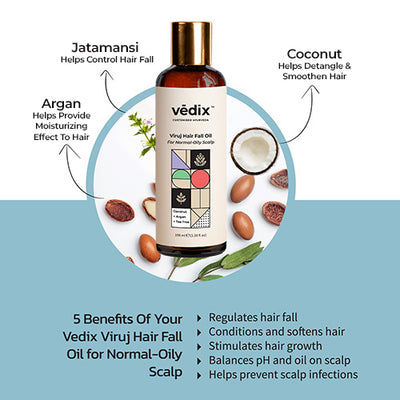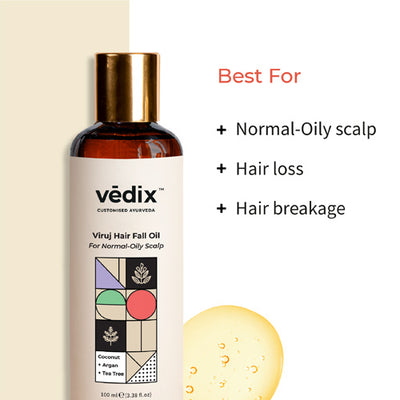 Viruj Hair Fall Oil for Normal-Oily Scalp
100ml
5 95% Satisfied Customers
Rs. 499
This Product is Recommended For:
Product Description
This hair oil contains ayurvedic ingredients which:
Help nourish & soothe the scalp
Help reduce hair fall
Help manage oil production on the scalp
Key Ingredients
Coconut - Helps Detangle & Smoothen Hair
Argan - Helps Provide Moisturizing Effect To Hair
Jatamansi - Helps Control Hair Fall
Recommended Use
Add 6 drops of Vedix booster oil per 30ml of Base Oil
Shake gently to combine. Use required amount
Can be used as regular hair oil
Here's What Our Customers Say About Us
Was afraid to try, but the results are worth it!
Keeps my hair soft, smooth, and shiny. Everything I always wanted!
Viruj Hair Fall Oil For Normal-Oily Scalp 100ml
Really helps keep my scalp oil-free!
It leaves hair strong, smooth, and shiny
It's has given my hair such a great gloss!
It's become part of my daily routine. Can't do without it
My hair texture has improved considerably.
The quality of the oil is awesome. My hair doesn't feel sticky after application
This oil has helped my hair length to grow, has given lustre to them.